Professional Camera Equipments & Grip Rentals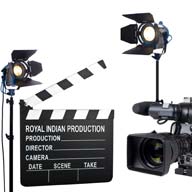 Following camera and grip equipments can be arranged in major indian cities like Mumbai, Newdelhi, goa, jaipur, Bangalore and Hyderabad !
arri alexa
canon 5d mark3 kit
Sony hdw f900 cinealta
red epic kerala
red one newdelhi
black magic camera
red mx chennai
sony pmw f3
panasonic p2
Sony ex3
canon c300
canon c500
go pro hero3
sony pmw100
sony fs 100
hasselblad
Canon lenses J11 X 4.5 WRS with HJ11 and J11 IRS versions, and J9X5.2 WRS
Canon J20X8 and HJ21 X 7.8 with doubler
Canon YJ12X6.5, J8 X 6 and Fujinon A8.5 X 5.5 wide angle
Canon HJ40 X 14 Elite wide angle, anamorphic kowa, arriscope lenses, uttra prime, zeiss super speeds, cannon tele, cook zoom and lenses.
Manfrotto 503 tripods,
dolly panther Sennheiser microphone 416p
Sony Zoom recorder
Sennheiser MKH 416 P48 shotgun mics with Rycotes and boom rods
Sennheiser 500 Series lapel and handheld UHF cordless microphones
Led lights
Baby 1KV and Solar 2 KV lights, hmi with stands and barndoors
Kinoflows 2ft to 4 ft bank
Jimmy jib 20 ft to 40 ft
Slider
Steadycam
Flexi track trolley
360 Dutch Head Kit
Vanity van single door to multiple doors
All kind of fog, rain, storm, ice machines apart from above mention cities we can arrange equipments in jodhour, Udaipur,Varanasi,cochin, trivendrum etc.