Famous Film & Video Production Company In Kerala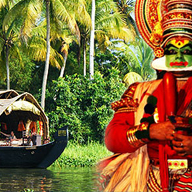 Video Production services Kerala:
Kerala is a state in the south west of India
and an important tourist destination for backwaters of alappuzha, magnificence beaches like kovalam , Ayurvedic tourism, & tropical greenery and hill stations like munnar ,jungle safaris in wayanand ,palakkad , among its major attractions!
we can arrange local film production fixer in kerala , line producer , film director, cameraman and art director, production manager or make up artist available for documentary shoot, tv commercial filming and as eng camera crews for annual snake boat race during Onam festiwal on the Pamba River, media productions in whole of kerala & major cities like Thiruvananthapuram or trivandrum , Kochi, also called ernakulam , Kozhikode , Thrissur, , Kollam , Alappuzha & kannur !
Documentary production kerala :
Kerala is home to performance arts like Kathakali , Thullal , Mohiniyattam , Koodiyattom, andKrishnanattam , originated and developed in the temple theatres during the classical period under the of royal families !
traditional dance Chavittu nadakom Margamkali , Parichamuttuand , thayyam are also popular !
filmmakers looking for film services & production support in kerala are welcome for full production service s, equipment rentals from local vendors can be arranged !

Video production house kerala :
Our camera team can handle documentary production, television commercial or corporate film and any media production! kerala has very diversity in locations first choice for any documentary film maker, different fairs , Elephants have been an integral part of kerala culture, state has largest domesticated population of elephant in India , These elephants are mainly employed for the processions and displays !
Camera crews kerala :
Kerala has local film industry called Malayalam film industry having top class studio like chitrajanli studio , camera like red epic , canon 5d mark3 , canon c300 , jimmy jib , Sony ex3 , Panasonic p2 ,kinoflow lights local crews sound engineer , lightsman , dancers , art directors can be arranged ,
Be it cameraman in kerala ,local line producer in trichy , be it production manager in kochi or dop at calicut or location manager at kovallam we can arrange all !

Disclaimer: all images shown are information only !